Every holiday season, Oprah famously releases a list of products known as her Favorite Things. Well, just call me Oprah, 'cuz today is gonna feel like Christmas. But maybe better, because these favorite things are all… FREE!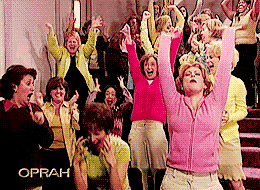 eBooks, and digital Audiobooks and Magazines

Once you have a library card number, you don't need to walk into a physical library to get books. You can download electronic media right to your iPad, Kindle, or smartphone. The app is called Libby by Overdrive. Download it, enter your library card info, and start browsing all the digital goodness!
And there's another app, called Hoopla, that works similar to Libby and has digital movies, music, audiobooks, ebooks, comics, andTV shows. According to their website, you can stream the content to a mobile device and even to your TV! If your local library does not have an account with Libby, they might be members of Hoopla. For example, I noticed that San Diego Public Library was not on Hoopla, but the nearby cities of Chula Vista and Oceanside were listed when I searched what was available through the app. (Props to my friend, Marty, for this great find.)

The next time you're about to purchase books on Amazon, be sure to have Library Extension added to your web browser. Here's how it works: if the book is available at your local library, it will let you know in the sidebar before you hit the "Buy" button. (Props to ChooseFI for this lifehack.) Super-duper power hack: in the settings for the browser extension, I added both the public libraries where I'm temporarily based for work and where my home city, giving me even more download options.
LinkedIn Learning (formerly known as Lynda.com)

I've always loved the wealth of knowledge available from Lynda. And since being purchased by LinkedIn, the video tutorials now great resumes builders as well. Every time you complete a tutorial series, LinkedIn will add a certificate to your LinkedIn profile so employers can people like you when they need specific skill sets.

But you don't need to be a jobhunter to use this website. As a government employee, I'm not looking for a job. I just love casually learning new things from time to time. Currently on my list are tutorials for graphic design and music production.

This is a membership that normally would cost up to $37.50/month, but through my local library, I found out I could access it from the library computers or from home for free! Just enter your library card info when you sign in and you're good-to-go!
Physical Movies and Music

I listed this near the end of the list because it's not quite as new or exciting. But in case you didn't know, a ton of DVDs and CDs are available to borrow from the bookshelves of most libraries. They may not be new releases, but they could be worth perusing before the next time you pay to rent a DVD from Redbox or pay to download an older movie from an app like iTunes or Vudu.
BONUS: Free access to Apple Fitness+ classes, iTunes music downloads, Apple News+ website access, Apple Arcade ad-free game downloads, award-winning original movies and TV shows, and more

This final one is a bonus for the Apple users out there. It's called the Apple One subscription. Read on, because there's a way to get it free.* 
For $30/month, Apple One includes the following six services:

Fitness+ classes to sync with your Apple Watch,
Unlimited downloads through Apple Music,
Access to nearly every major news site and magazine that normally requires a subscription,
Videogames through Apple Arcade,
Original movies and shows on Apple TV+,
Access 2 TB of iCloud storage and stop worrying about whether the photos and videos you're shooting with your phone might use up the hard drive space on your device
Competing services are charging more money for fitness classes alone (it's $39/month for a MIRROR or Peloton All-Access Membership). This is a screaming deal, especially considering the fact that an Apple One Premier membership can be shared with five other people* (if you're one of those five lucky people it's being shared with, that's how it can be free).
And lastly, as a HOMO Money public service announcement, I should also mention the financial benefits of this Hustle lifehack. Here's what $1,300/year per person could look like if it were saved and the money was working for you.
If you're like me and you love your streaming content, now you can break into endless options without breaking the bank. But enough from me. I'd love to hear what's your go-to lifehack for saving money on digital media. Do you have a favorite resource that didn't make my list? Tell me in the comments so we can all continue learning from one another.
Happy streaming, Moneymakers!